See Pigeon River Labradors
Training Photo Gallery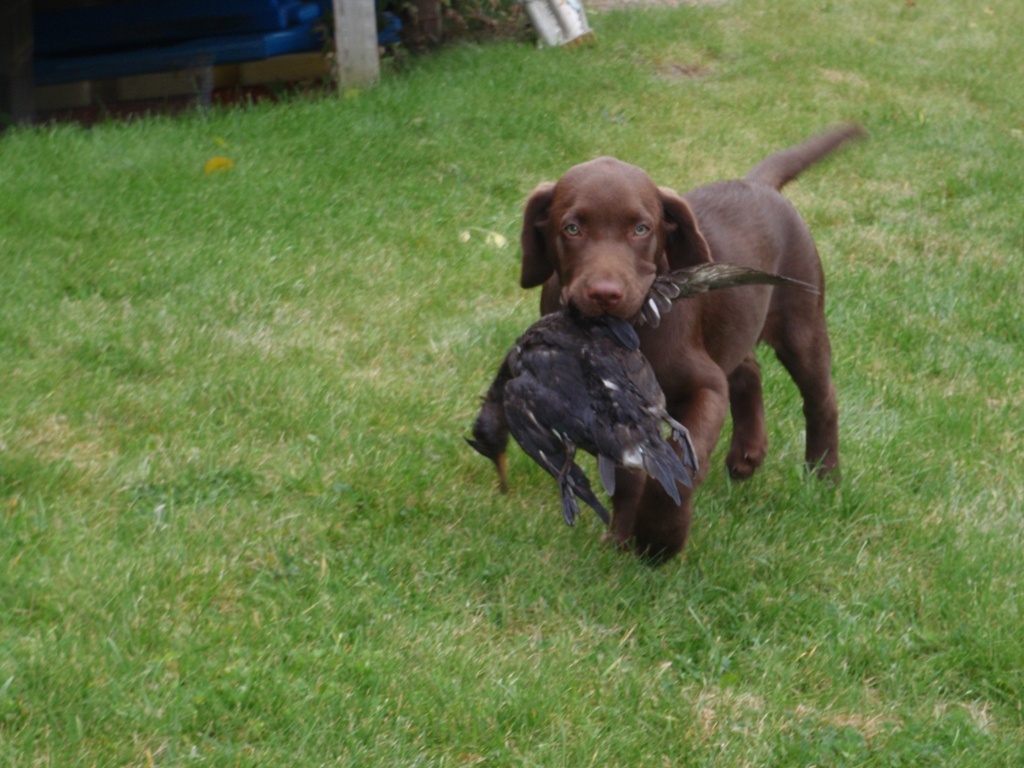 Pigeon River Labradors specializes in producing classic hunting-retriever companions for the avid waterfowler and upland game enthusiast. Our proven training processes are founded upon well established British and American gundog principles which promote control, markability, ease of handle and the development of a dog's natural hunting instincts without compromise to the retriever's attitude, drive, or compatibility. We produce a true Respectable Gundog for the American wingshooting enthusiast.
The Pigeon River Labradors training processes are designed to create a positive, productive relationship between the gundog and the handler by establishing clear expectations for the retriever's calm behavior and performance, as well as, a strong bond between the two. Our methods utilize positive habit formation to forage an enduring, strong relationship with the handler/owner clearly in control of the partnership.
We customize our training curriculum to meet the specific developmental needs, abilities, and progress of each retriever while keeping the owner's expectations in mind. The Pigeon River Labradors curriculum was developed by hunters for hunters to make your dog a personal hunting companion that you can be proud of in the blind or field, as well as, in the home with the family.
Training Programs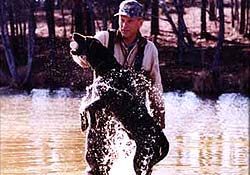 Pigeon River Labradors offers full time training and specializes in British and American training methods. Our clients and visitors are always welcomed. Clients are encouraged to actively participate in the training sessions throughout the duration of the training cycle. The training process is not complete until our clients can effectively handle their retrievers in a hunting situation. We offer handbooks, workshops and videos for our clients' instructional support.
Basic Retriever
(5 month program)
Pigeon River Labradors puppies are accepted into this program as early as 6 months old. The training emphasizes all basic retriever skills including extensive obedience, steadiness, honoring, marking, delivery conditioning, lining, memories, basic handling (hand signals), and steady to flush. Dogs are exposed to various hunting terrain and environments (both land and water) and a variety of birds including dove, quail, chukar, duck and pheasant . For the pup of average ability and temperament you can expect a quiet, responsive, obedient, reliable retriever who is steady to shot, proficient in single and double marks in varied environments, and has a good start on hand signals and blind retrieves.
Advanced Retriever Training
(3 month program)
This curriculum builds upon the foundation skills established in the basic program. This process may begin after one hunting season exposure. Additional elements include lining, multiple memories and extended marking, handling drills, steadiness refinement, site and cold blinds, tracking runners, and diversions (gunfire/birds). Upland game (quail, pheasant) training is available which will include steady to flush, tracking, marking and/or quartering.
Obedience Course
(1 month)
Designed specifically for the Pigeon River Labradors companion dog, this course conditions the pup in basic obedience commands: heel, here, sit stay, remote recall, down, load, kennel and box training. This is considered to be the basic "good citizen" course designed to make your dog a socialized, well-mannered part of your family.
Pre-Season Tune Up
(1 to 2 months)
The tune-up curriculum is for Pigeon River Labradors
Started
or
Finished
Retrievers in need of pre-hunting conditioning, honing of particular skills or minor problem solving exercises. Refresher work includes obedience drills, memories, steadiness, multiple marks, lining, precision handling, site and cold blinds, and bird work. Your dog will be exposed to extensive gunfire and birds.